Easy Peasy Lemon Squeezy
Google Drives For the Win!
A wonderful student, who shall remain unnamed, showed me this great tool this week! (You know who you are - and Thank You!)
Here is the super beginner's tutorial on how to do works cited and in-text citations in your essay!
1. Open a Google Doc and format for MLA
The tutorial for how to do do this and how to set it up for MLA standard is available right HERE Type your essay. As you go you will add sources and citations.
Now it looks something like this (thanks to brailleworks.com for this splendid writing):
2. Add Your Sources
Go to the Menu and choose Tools, then Citations
Now you get this pop-up on the right-hand side. Click the down arrow and choose the type of formatting your instructor has chosen. (For my classes choose MLA)
3. Now it's time to add your source.
Click the blue + Add citation source.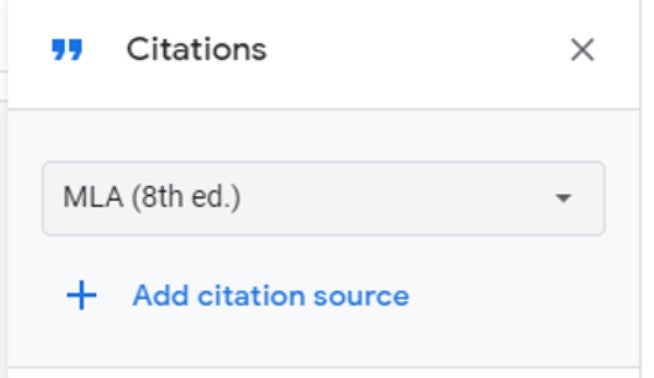 Another pop-up appears - click the down arrow and choose your source type.
HOT TIP: essays should have more than one type of source! Try to find a book or other source to add to your online research
Note: If you choose Book - you have to say where you read it (Accessed by drop-down menu) Options are print (a physical paper book, online (e-book) or online database (not sure I've ever seen one of these)
Most of your sources will be websites, so I'll show that one (and that's where I found this great writing!)
You will see a lot of empty boxes open up. FIRST, go down to the URL and pop your weblink in there and click ADD Citation source
Unfortunately, it does not auto-fill your boxes for you - so you have to go to your website and fill in all the information you can find. If you can't find something just leave it blank. Be sure to check the footer (very bottom) of the website for copyright (you can use this date as a publishing date too if one isn't listed)
Accessed day/month is when you read it
Now my source looks like this:
TIP!!! As you write your essay add your sources and cite them immediately! Do not leave this until the end - it will be so much more work trying to figure out which fact came from which source. In your essay outline, you should have noted the source for each fact so it's right there at your fingertips!
4. Using your sources as an intext citation
Let's pretend that I have used just a little information from this site (and not the entire text). Remember - every single idea, fact, or stat you take from a source needs to have a citation (that is the part that tells the reader where it came from)
I want to show that the first paragraph of information came from this website (although in reality it all did - but your essays won't be like that) You will have lots of different citations in your essay.
First: put your cursor in the essay where you want the citation to be added (at the end of the idea/fact that you took from that source) Then move your mouse and hover over the source you got that information from - it will pop up a cite button - it will look like this.
Click the "cite" button and it will automatically add the in-text citation to your essay! It's magic!
5. Add Your Works Cited to the End of Your Essay
This is some serious easy peasy here! You should have a number of sources listed on the right hand menu of sources and now you're ready to add your Works Cited.
See the fancy blue button at the bottom? "Insert Works Cited"? Just make sure you are at the END of your essay and Click it!
MAGIC! Your Works Cited will appear at the end. (or wherever your cursor was!)

Just make sure it starts on its own page. To do this go to the line before the Works Cited and click CTL and Enter at the same time. Voila!
So Easy Right?! You CAN DO THIS!