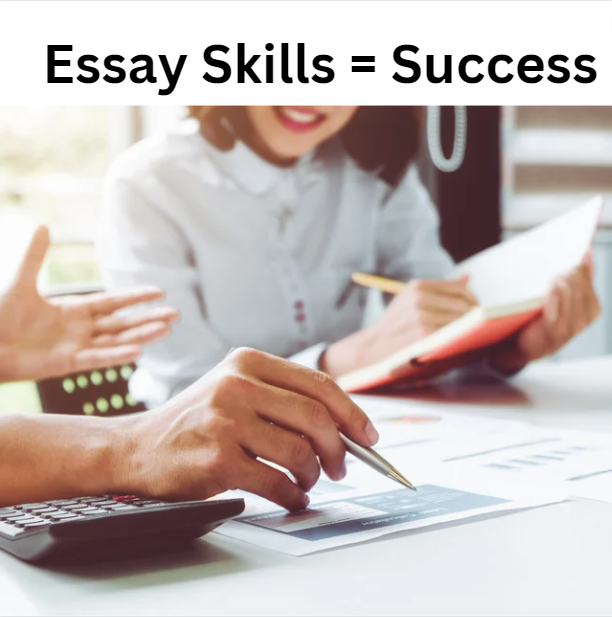 That's a bit much to say you think?

I don't!

Essay writing teaches students to
work through long process

manage time

work through hard things

research and take careful notes in their own words

read critically so they can discern logical arguments

create their own logical arguments to prove a point
Employers are Looking for Thinkers
Teach a student to write and you've taught them to think, self-advocate, and be persuasive!
Employers are looking for young adults who can THINK! Employers are disappointed by the skills new employees have.
5 Things Employers Are Looking For
They are looking for people who can:
See a Problem

Writing essays teach students to examine a topic from all angles - to see a problem and turn it around in their mind and look for its source.

Research

Research is vital to academic essay writing and learning to do it well requires thinking and critical thinking skills. Students Learn to see all sides of the argument and consider them fairly and with respect. They learn to evaluate sources and ask questions about the source's intentions. They learn to evaluate statistics, look for accurate and expert opinions that they can bring to bear on the situation.

Plan

Writing teaches students to look at the end goal and to divide that into manageable tasks - sequence them in a logical and time effective way and schedule them to provide for an on time outcome. What more can an employer want really?!

Sell the solution to their management team and to their colleagues

Here's something more they want! Your young person will learn through essays to be persuasive and confident in their ideas so they can sell this solution and its timeline to management. Management will then be able to trust your young person with the task of pivoting their message to a new audience and showing their colleagues the importance of this new project getting them to willingly join the path to a solution!

Be leaders in their roles!

Young people with these skills - all learned in the essay writing process - will become leaders in their roles, valuable to their employer and they will find success in their field!
ACT NOW!
Are you preparing your preteen and teen to be successful in this way?

Discern To Learn specializes in:

1. Success Mindset and Accountability(setting goals and learning self-motivation)

2. Persuasive Writing and Speaking Skills

3. Critical Thinking and Worldview Nurturing

Contact Me:
email: support@discerntolearn.com
FB Messenger: m.me/DiscernToLearn